Image Settings¶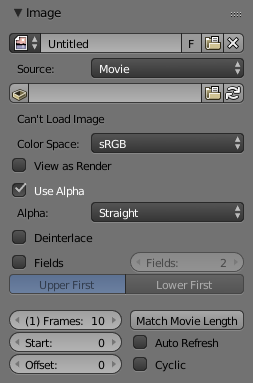 Image

Data-block menu.

New

+

The New Image button opens a pop-up to configure a Generated image.
Common Options¶
File

Use for replacing or packing files.

Pack

Embed the resource into the current blend-file.

Path

Path to the linked file.

Open

Opens the

File Browser

to select a file from a drive.

Reload

Reloads the file. Useful when an file has been rework in an external application.

Color Space

XYZ

XYZ space.

VD16

The simple video conversion from a gamma 2.2 sRGB space.

sRGB

Standard RGB display space.

Raw

Raw space.

Non-Color

Color space used for images which contains non-color data (e.g. normal maps).

Linear ACES

ACES linear space.

Linear

Linear 709 (full range). Blender native linear space.

View as Render

Apply render part of display transformation when displaying this image on the screen.

Use Multi-View

See

Multi-View

.

Use Alpha

Determines whether the alpha channel of the image is used.

Alpha Mode

Straight, Premultiplied

Fields

Work with Fields images. Video frames consist of two different images (fields) that are merged. This option ensures that when fields are rendered, the correct field of the image is used in the correct field of the rendering. MIP Mapping cannot be combined with Fields. Order of video fields:

Upper First, Lower First.