Background Node¶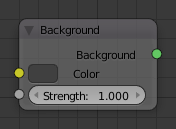 The Background shader node is used to add background light emission. This node should only be used for the world surface output; it is ignored in other cases.
Inputs¶
Color

Color of the emitted light.

Strength

Strength of the emitted light.
Properties¶
This node has no properties.
Outputs¶
Background

Standard shader output.