Volume Rendering¶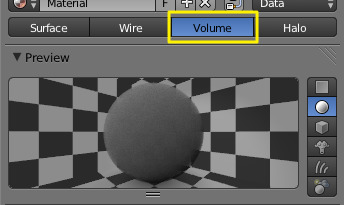 Volume rendering is a method for rendering light as it passes through participating media, within a 3D region. The implementation in Blender a physically based model, which represents the various interactions of light in a volume relatively realistically.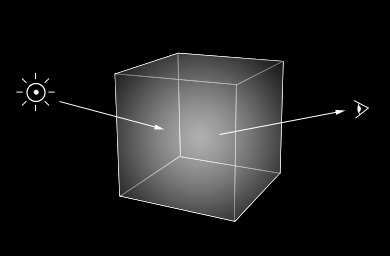 Rendering a volume is different from Solid Render. For volume light enters a 3D region of space (defined as the volume) that may be filled with small particles, such as smoke, mist or clouds. The light bounces around off the various molecules, being scattered or absorbed, until some light passes through the volume and reaches the camera. In order for that volume to be visible, the renderer must figure out how much material the light has passed through and how it has acted and reacted within that volume, the volume object needs to contain a 3D region of space, for example a manifold closed mesh, such as a cube, not just a flat surface like a plane. To get an image, the renderer has to step through that region, and see how much 'stuff' is there (density) in order to see how light is absorbed or scattered or whatever. This can be a time consuming process since it has to check a lot of points in space and evaluate the density at each.
Lighting¶

Several shading modes are available, providing a range of options between fast to render and physically accurate.
Lighting Mode

Shadeless

Shadeless is the simplest, useful for thin, wispy mist or steam.

Shadowed

Shadowed is similar, but with shadows of external objects.

Shaded

Shaded uses a volumetric single-scattering method, for self-shading the volume as light penetrates through.

Multiple Scattering

Allows multiple scatter calculations.

Shaded + Multiple Scattering

Combines Shaded and Multiple Scattering functionality.

Shaded Options

External Shadows

Receive shadows from sources outside the volume (temporary).

Light Cache

Pre-calculate the shading information into a voxel grid, speeds up shading at slightly less accuracy.

Resolution

Resolution of the voxel grid, low resolutions are faster, high resolutions use more memory.

Multiple Scattering Options

Diffusion

Diffusion factor, the strength of the blurring effect.

Spread

Proportional distance over which the light is diffused.

Intensity

Multiplier for multiple scattered light energy.
Transparency¶
The transparency settings are the same as Solid Render except you have less settings. For volume rendering you only have:
Mask
Z Transparency
Raytrace
Integration¶

Step Calculation Method

Method of calculating the step through the volume.

Randomized

Randomized method of calculating the step.

Constant

Constant method of calculating the step.

Step Size

Distance between subsequent volume depth samples. Step Sizes determine how noisy the volume is. Higher values result in lower render times and higher noise.

Depth Cutoff

Stop ray marching early if transmission drops below this luminance threshold. Higher values will give a speedups in dense volumes at the expense of accuracy.
Options¶

Traceable

Allow this material to calculate raytracing.

Full Oversample

Force this material to render full shading/textures for all anti-aliasing samples.

Use Mist

Use mist with this material (in world settings).

Light Group

Limit lighting of this material to lamps in this group.

Exclusive

Material uses this group exclusively. Lamps are excluded from other scene lighting.
Smoke and Fire¶
Create the Material¶
The material must be a volumetric material with a Density of 0, and a high Density Scale.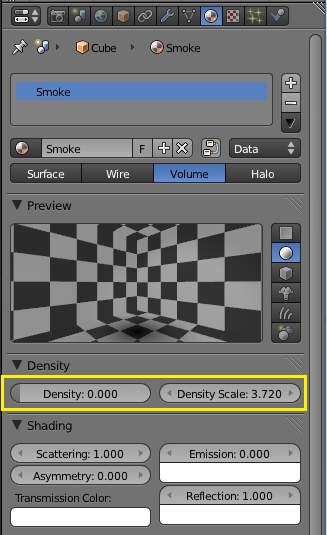 Smoke requires a complex material to render correctly. Select the big cube and go to the material tab. There change the material to 'Volume' and set the density to 0. If you set the density to values bigger than 0 the domain cube will be filled with the volume material. The other settings will affect the smoke, though. We'll cover those later.
Add the Texture¶
In addition, Smoke requires its own texture, you can use a volumetric texture known as Voxel Data. You must remember to set the domain object and change the influence.

Go to the texture tab and change the type to Voxel Data. Under the Voxel Data-Settings set the domain object to our domain cube (it should be listed just as 'Cube' since we are using Blender's default cube. Under Influence check 'Density' and leave it at 1.000 (Emission should be automatically checked, too). Now you should be able to render single frames. You can choose to color your smoke as well, by turning Emission Color back on.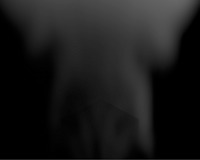 Tip
To see the smoke more clearly.
Under the world tab, choose a very dark color for the horizon.
Smoke Simulator with fire texture¶
You can also turn your smoke into fire with another texture! To make fire, turn up the Emission Value in the Materials panel.
Then, add another texture (Keep the old texture or the smoke will not show). Give it a fiery color ramp- which colors based on the alpha, and change the influence to emission and emission color. Change the blend to Multiply.